For Smart Travel Asia in 2007, regularly updated.
AFTER being curtly relieved of his newly acquired farm at gunpoint up in Sisaket province, my flight buddy Richard – a former management professor from the States – seemed surprisingly unperturbed. "That's Thailand for you," he shrugged, mildly. But he had higher hopes for Chiang Mai, his latest choice for building a home. "It's not the same there," he said. He was right. We landed, emerged from the airport, and there was not a gun-toting farm-grabber in sight (I'd hidden my own twelve-acre ranch in my hand luggage, just in case). Chiang Mai cuts a most welcoming picture – and not only due to its apparent lack of property pinchers.
Compared to the hot chaos of Bangkok, this is a temperate city, set on a northern plateau with a laid-back vibe. Even the hawkers seem more sedate. The sun may feel stronger at this modest elevation, but just a short trip takes the traveller to cool green waterfalls and verdant hill villages with plenty of shade. There's a strong sense of history here too that counterbalances the grittier urban development. Wats (Thai temples) gleam around every corner. Monks amble in pairs, ignoring their Nikon-laden stalkers. Handicraft workshops and antique stores keep the suitcase shops in business.

Hotel Contact Information

See Slide Show
The city has much to do with water. The Ping (or Mae Ping) river cuts through its eastern half and an old active moat pens in the oldest quarter. In its early days (from the twelfth century on) Chiang Mai was constantly under siege and the moat is fortified by a gorgeous 700-year-old wall, partly reinforced but mostly crumbling.
There's something about being waterside that tends to slow the pulse and this has no doubt contributed to Chiang Mai's café culture. Hill tribe coffee blends flourish here despite ominous overtures by Starbucks. Moat-gazing is even further improved by the sputtering fountains and flower landscaping. Coffee, canals, flowers… hell, we'd try calling it the Amsterdam of Asia if only they'd throw in a sex museum and stop shooting pot dealers on sight.
Send us your Feedback / Letter to the Editor
But, sex and drugs aside, this city knows how to take it easy. So loosen that collar, grab a steaming cup of hill tribe coffee and kick back. You're going to like it here. On then to our Chiang Mai guide and hotel and resort review.
Getting around, some Chiang Mai Shopping, and Golf
Chiang Mai International Airport is small and fairly modern. If you fly in through Bangkok it may save your beleaguered cuticles to check where your baggage will touch down. I arrived in the domestic terminal, and finally found my suitcase (and my hotel pickup) a short walk away in the International wing. It's just a 15 to 20-minute ride into town by tuk-tuk, which will set you back just Bt60. The exchange rate is around US$1 = 34 Thai baht. Hotel pickups in comparison can cost up to Bt700, so it's time to ask yourself how much you really love that airconditioning. Plenty of car rental options are nearby, with Avis (www.avisthailand.com) right in the terminal. Spend 24 hours with a feisty Toyota Soluna Vios 1.5 for about Bt1,400.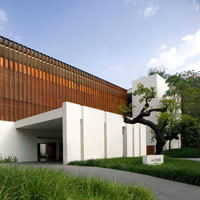 Contemporary chic at Chedi/ photo: hotel
The Central Airport Plaza nearby may not excite culture vultures in search of an offbeat Chiang Mai shopping trawl but it's a godsend for Chiang Mai's teenage set. Huge and modern, like nowhere else in town, it has a Body Shop and Britney ballads on tap, as well as a clothing store called Great American Body. This is a dark kind of humour in a land that teems with the svelte and wiry. The two-level Northern Village complex is worth a browse. It sells contemporary Lanna (northern Thai) handicrafts, and you'll find both the quality and prices higher than in the outside markets. A handmade ethnic shirt for example, goes for around Bt2,000, a silk cushion cover for Bt300. A number of the boutiques are run by established Thai design labels.
It's useful to know a bit about Lanna style, since interest in the old ways is on the upswing here. The Lanna kingdom centred on Chiang Mai and included a group of semi-autonomous city states, colonised first by Burma, and then integrated into Siam a little over 200 years ago. For the traveller, Lanna motifs are most evident in the wat architecture around town but they've also hit the food scene. Try them for yourself at the wooden Old Chiang Mai Cultural Centre (tel: [66-53] 275-097, www.oldchiangmai.com) minutes from the mall, which does a nightly northern dine and dance show at 7pm, for Bt300. Guests sit on floor cushions and chow down on a Khantoke-style meal, which is a sort of Asian tapas selection plus crispy noodles on a round tray. For the timid of palate, the vegetarian option is non-taxing and delicious. The performance, though churned out nightly, is also pretty well done.
The Chiang Mai Lamphun Golf Club (tel: [66-53] 283-160) is just across the road from the mall, leafy, floodlit and set to a soundtrack of thwacks, boings and encouraging cricket chirps. You can get a club and around 160 balls here for Bt150 and there's a nice low-key little café, with classics such as "fancy shrimp paste fried rice" on the menu. (Golfing in Chiang Mai is a huge attraction. Other Chiang Mai golf courses include the Royal Chiang Mai Golf Resort, the Lanna Golf Club, the Gassan Lake City Golf Club and Chiang Mai Highlands Golf & Resort.)
Other shopping highlights in the area include the Baan Muang Kung pottery village and a lacquerware factory, heading out of town on the Chiang Mai Hang Dong Road.
The Old City within the Moat
Confined neatly to a tight square inside the moat, the old city is the easiest area to navigate, especially by rented motorbike or bicycle. Circumnavigation on foot can take two hours or so, and with tuk-tuks you find yourself constantly ducking to see what's going on around you. Try skimming around the outer Si Phum, Mun Muang, Bamrungburi and Bunruangrit Roads and dipping into the smaller, leafy sois (side-streets) at will. Here you'll find it's largely residential, punctuated with wats, cheap guesthouses and open fronted restaurants. Many of these little nooks are wonderfully serene.
There's more than enough temple action here to keep the Buddhist enthusiast busy (51 to be precise). But, if you'd just like to pick just one, Wat Phra Sing on Samlan Road is one of the more important. The large, wooden Pantao Monastery offers insight into the more active, down-to-earth side of Buddhist life.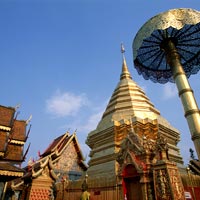 Wat Prathat Doi Suthep
For orientation within the moat boundaries, note that Singarat and Phra Pokkhlao Roads run roughly north to south, while Ratchamankha and Ratchdamnoen Roads run west to east. On Sundays, Ratchdamnoen Road near Tha Phae Gate (also Tapae or Thapae), is closed to vehicles and becomes, simply, "Walking Street", a hugely popular weekend market.
All the external roads have their own unique character rooted in the past. Tha Phae Gate in the east was originally popular with merchants and it remains an animated business strip with shops, massage parlours and plenty of farang (foreign) bar-restaurants. By night it's one of the busiest quarters. Chang Phuak Gate to the north was the entrance for royalty. Here too are the usual bars, shops and small restaurants. The south, around Chiang Mai Gate, is more down-at-heel, with a fresh produce market and motorbike mechanics. Over on the west side by Suan Dok Gate things are quieter and more residential.
A wander along the moat is nice of an evening, though most of the dining options here are mid-to-low range – cheap Thai noodle joints and low-key restaurants with hybrid menus. Just off the canal, near Ratchamankha Soi 2, you'll spot the comfy Laughing Leprechaun that does a renowned fried breakfast, and the atmospheric French creperie, Aux Amis Du Monde (tel: [08] 5709-1063). There's also the dubiously neon Mandalay Palace disco nearby for gentlemen looking for a dance and a date. However the swishiest venue along here is The House (199 Mun Muang Rd, tel: 419-0113). Competitors sniff that this Eurasian fine dining experience is overpriced and over-hyped, but that doesn't stop the hipsters flocking in for a bite, a martini, and a puff of sheesha in the moody lounge bar in the courtyard.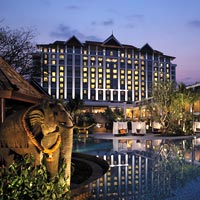 Shangri-la Chiang Mai/ photo: hotel
Up north the best of the bunch is definitely The North Gate, a new addition that started as an outlet for creativity-starved jazz musicians. It is run by a talented Thai saxophonist and his American partner who hosts Chiang Mai's English language radio jazz show on 106.5 FM. The place is low-key but high-energy, with constant drop-ins from the local music scene. Other popular bars around here are The Queen Victoria (tel: 418-266) for that pub-away-from-home kind of feel, Le Barfly (tel: [08] 943-2578) and the UN Irish Pub (tel: 214-554).
Chiang Mai Riverside, Dining, and Night Market
Leading out east is Tha Phae Road, a popular spot for the dreadlocked and toe-ringed set. It has a number of welcoming coffee shops – try JJ Café (tel: 234-007) for milkshakes and a good sandwich bar – second hand bookshops and a couple of good mid-range restaurants. Throwing caution to the winds and abandoning explicit instructions to just eat cooked food, I tucked into a number of rather good salads at the American-Thai, diner-style Art Café (tel: 206-365) and lived to tell the tale. It could be something to do with the hydroponic lettuce, and ice scrupulously made from filtered water, but the owner claims that most places are pretty safe these days. Art has Mexican food too. Pulcinella da Stefano (1/1-2 Chang Moi Kao Rd, tel: 874-189) will satisfy any spaghetti cravings. There's a reliable Boots pharmacy here too (locally-sold pharmaceuticals can be dodgy) and the modern, comfortable Internet café at the Lanna House (tel: 270-348) struck me as a good temporary office space if needed. Pay Bt50 for a day's Wireless, or Bt30 to use its PCs.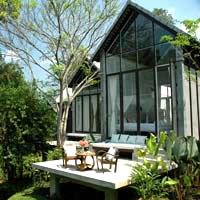 Proud Phu Fah/ photo hotel
East of the old city but still west of the river is the night bazaar. Head to the northern end of Chang Khlan Road anytime after five and you'll find yourself squeezing through tunnels of multi-coloured knick-knacks, blocking out the sky. From rickety paper lamps your local firemen would baulk at to less than authentic DVDs and chirping wooden frogs, quality here can drop as low as the prices. Still, there are some great finds around. Chiang Mai shopping expeditions aimed at higher-end products around here can head farther into the permanent shopping complexes. Galare Market is newly renovated with twinkly tree lights and fresh fish at the food-court gleaming on beds of ice. Just near Galare on Charoen Prathet Road, Le Spice (www.le-spice.com, tel: 234-962) is a welcoming spot for Thai-Indian food with a garden courtyard. Farther down you'll find The Duke (tel: 249-231), famously Sly Stallone's choice when in town. Three guesses as to the cuisine. No, not Swiss.
For more Chiang Mai dining choices, use the golden McArches as a beacon and wander down Loi Kroh Road to where the stalls tail off. Here a couple of low-key Belgian, German and Italian restaurants wait, with schnitzels and the like. Anusarn Night Market down here has some great open-air Thai eating, while nearby you'll also find a sophisticated little northern Thai restaurant, Just Khao Soy (108/2 Charoen-Prathet Rd, tel: 818-641, MSG-free). Guitarman (68/5 Loi Kroh Rd, tel: 818-110) is tucked away close by, for those that like a good jamming session over beers and burgers.
The best Chiang Mai hotels in this area should also be explored for high-end dining. The Chedi has a very lovely club-like bar and restaurant that still harks back to its days as the old British Consulate. It serves creative tapas alongside traditional and fusion Asian meals. The Sofitel's Mira Terrace offers a nice casual spot for international dining, with another bar for cocktails and snacks in a garden pavilion.
Across the Ping from here you'll encounter a peaceful patch, where grassy banks lure couples and lone procrastinators. The peace comes to a resounding halt at the rambunctious Riverside Bar and Restaurant (www.theriversidechiangmai.com). You can enjoy dinner and drinks on its small river boat, if booked early. The Gallery (www.thegallery-restaurant.com) is a little more sedate (enough so for a visit from Hilary Clinton), and comes with a selection of artworks for sale and its Chang Jazz Club next door. Farther up, two finer, more romantic restaurants emerge – the simple and pretty The White Room (tel: [08] 5711-4557) and La Gondola (tel: 247-776, www.lagondolathailand.com), with wood-fired pizzas and live jazz.
Heading south from here, the dining and entertainment options dwindle, though you'll find Muay Thai (kickboxing) at The Kawila Boxing Stadium on the east bank (choose between the "show" – often involving a ladyboy, and the real matches). On the west bank the modest Mae Ping River Cruise will put-put you around for a few hours, stopping off at a farmer's garden for a snack.
Chiang Mai's West, Drag Shows, and Museums
Two areas of note in Chiang Mai are the Ninmanhemin Road gauntlet of furniture shops and boutiques, and Nantharam and Wulai Roads, with silverwork stores to send your inner magpie into a gleeful frenzy. Shimmering pieces of local silver have been worked into the design of several temples like Wat Prathat Doi Suthep near Doi Suthep (a scenic mountain).
Ninmanhemin has a couple of snack spots, from Dai-Kichi's (tel: 223-873) Japanese food to the quirky Ka-nom Fashion Bakery (tel: 212-033). Be sure to try out the Doi Chaang Coffee House (www.doichaangcoffee.com). This stylish, burgeoning chain comes courtesy of a group of villagers and coffee producers in the area. All the beans are hand-harvested and roasted in a traditional drum. You'll find a branch in Canada too. Not too far away lies Wat Suan Dok – my favourite. It always looks stunning in whitewash and gold leaf, and houses the ancient remains of former Lanna rulers. It's also part of the Buddhist university for monks and leaves a serene impression. Opposite, Sinakarin Health Park is good for an evening stroll.
North from here you'll find the Chiang Mai National Museum, and high camp exuberance like you've never seen before at the Simon Cabaret Chiang Mai (tel: 410-3213, Bt500). This is a very popular, family-friendly transvestite show involving everything from Chinese opera and Broadway numbers, to Hollywood movie re-enactments. As our correspondent Chris Stowers once described it, Simon is "an extravaganza of lip-sync glitz". Stop by as well to marvel at the seven spires of Wat Jet Yot. Chiang Mai is, after all, a city of temples.
Guide to Mae Rim Valley, Elephant Camps
This northern valley starts about 15km out, and is a popular choice for out of town mini-breaks. You'll find the Four Seasons hiding here (more on this later) and, even more successfully camouflaged, the Sukantara Cascade Resort – probably chosen by Angelina Jolie a few years ago to lose the paparazzi (this journalist certainly complied, my driver weaving about in vain trying to find the place).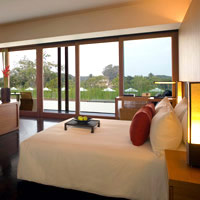 Stylish Chedi Club Suite/ photo: hotel
All the main attractions shoot off of the Mae Rim Samerang Road, and most are great for families. These include the Sainamphueng Orchid and Butterfly Farm, and the dubious and dusty Mae Sa Snake Farm (tel: 860-719) down the bottom end. Think rickety cages and heart-warming visions of pythons entwined with fluffy white bunnies.
Just across the road The Centre (263 Moo1, Mae Rim Samoeng Rd, tel: 297-700) is good for all things action packed, from bungee jumps and go-karts, to paintball and off road buggy rides. There's also a small sports bar and café. Keep going and you'll pass a couple of waterfall turn-offs, and the Chiang Mai Monkey School. Take your own monkey for training in manners, or just enjoy the macaques showing off. Farther up you'll get to take a turn with an elephant or two at the riverside Mae Sa Elephant Camp, though if you continue onwards (60km from town) the Elephant Nature Park (www.elephantnaturepark.org) is a cause well worth supporting. The sanctuary was set up to care for elephants too old or abused to work, and spearheads a number of conservation projects.
Chiang Mai Excursions, Rafting, Hill Tribes
Chiang Mai is consistently dubbed the gateway to the northern hills and adventure tour guides pop up like mushrooms. Both gung-ho and timid trekkers flock here for hours of jungle-thwacking penitence, which is often rounded out with a bit of bamboo rafting, elephant safaris, opium smoking (we'll deny it) or hill tribe visits. One attractive option is with the folks from Track of the Tiger (tel: 801-257, www.track-of-the-tiger.com). They are, beguilingly, "soft adventure" specialists that can also organise city-based events from cooking classes to photography trips.
A cushy alternative is offered by the Limousine Express Group (tel: [08] 5714-3083, www.limousinethailand.com), which will do private tours, including a night safari and golf package. For a couple of smaller travel operators try Northern Hill in the old city (tel: 815-115) or the affable Mr Doedee (World Story Chiang Mai tours, tel: 273-742), who will take up to four passengers out in a four-wheel-drive run. Larger groups are accommodated in an air-conditioned minibus. Most day trips start at around Bt700. Mountain Biking Chiang Mai (www.mountainbikingchiangmai.com) organizes a series of downhill bike trips out in the jungle from Bt1,450, and you can rent your own bike from Bt250 per day. There are a lot of young backpacker types here, so it's worth discussing the age group of your companions before you book.
Chiang Mai Resorts Review
This Chiang Mai resorts review looks at a range of options from budget to beautiful. Though small and scruffy Chiang Mai guesthouses abound, a few large, gorgeously designed glamour pads are gaining prominence. There are the Big Five: The Chedi, Sofitel, Four Seasons, Mandarin Oriental, and the Shangri-La, but a clutch of attractive smaller contenders make picking a room here as lively as window shopping outside Harrods at Christmas.
The all-new Shangri-La Hotel, Chiang Mai is pretty much smack in the centre of town within hailing distance of the bustling Night Market. The 281-room property in a high-rise building that mimics a stately Thai palace, albeit with a modern façade and trimmings, features northern Thai design motifs throughout with contemporary rooms ranging in size from 43sq m to a more than ample 215sq m. Shangri-La's executive Horizon Club floor hosts 60 rooms for those who prefer their service a cut above. Expect steam, incense and aromas at CHI – the Spa at Shangri-La, a yoga pavilion, tennis, pool, putting green and kids' club. If you happen to be in a suite or on the Horizon Club floor check out the pillow menu to pick from foam, buckwheat or even "anti-snore".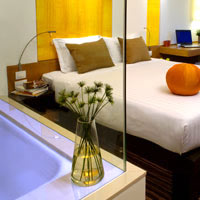 Trendy dusitD2 chiang mai/ photo: hotel

If Grace Kelly were alive, young and in Chiang Mai, she'd be at The Chedi, Chiang Mai, sunning herself on the poolside lounger, gazing fretfully from her balcony at the have-nots across the river and traipsing through the strictly-for-decoration reflective pools in the courtyard. The place oozes modernist glamour. Rooms are simple, dark and Asian in décor with standalone baths that can open out to the view. There's a flat-screen TV (with entertainment system), automatic blinds, free WiFi throughout, as well as laptops in the executive lounge that may be borrowed by guests. The deluxe rooms and spacious Chedi Club Suites are best described as contemporary Asian chic, pleasingly understated, with elegant flashes of Thai-silk. (The Chedi Chiang Mai features in our exclusive Top Asian Hotels Collection, featuring the best Asian hotels, resorts and spas in a printable A4 page with stunning visuals.)
The Club Suites have large sitting areas and roomy open balconies. You get a complimentary mini bar with carafes of whisky, gin and vodka. On the menu are The Spa at The Chedi, a sanctuary for wellness treatments, a swimming pool, a library, a fitness club, yoga, and a boutique. Though the place is very spic and span (which will appeal to many), it also has a few quietly untamed corners by the river to get the wind in your hair. The tapas are great even if the lighting is at times a bit dim to fully appreciate them. Still, the staff will leap to up the wattage of your room light bulbs should you require it. That's a thoughtful gesture as are the ice-cold scented face sprays that greet you at the pool. The Chedi is an attractive Chiang Mai luxury resort option if you don't wish to compromise on style and location and its spa is a huge bonus.
Not too far from here towards the night bazaar, the Dusit has launched the first of its new hip "lifestyle concept" hotels, the 131-room dusitD2 chiang mai . If you were wondering where all the good-looking people in Chiang Mai have gone, look no further. The hotel clearly cleaned out the local Channel V studio, and an acting school or two. To further the vibe, the lobby and bar turn into a dance club once a month, so check ahead if you don't fancy grooving through reception.
The rooms are full of quirky details, such as the "desires" button on the phone (try it, we dare you), and look out over the city, mountain views being the greenest. Rooms have WiFi and there's a decent club lounge, pool, a set of events rooms, a gym and a spa. Ask about the changing of the shift "performance" that happens each day. When I first heard of this the mind boggled. Retiring staff juggling custard-pie? Naked pogo stick racing? The performance is actually a bopping dance routine, with music. Some staff have all the fun.
Among the newer kids in town is the RatiLanna Riverside Spa Resort (formerly Sofitel Riverside Chiang Mai) which has an expansive feel to it, despite the Lanna detailing. The open hallways make you feel much more connected to the city, as do the room balconies. The emphasis here seems to be on space, with 76 large, dark wood rooms and suites, open-air dining and a big, glam pool by the river. Rooms are fully wired and Wireless. There's also a spa, and conference and banqueting facilities, inside and outside.
Le Meridien Chiang Mai arrived early November 2008 in the heart of the city, only a short walk from the popular night bazaar. Its 384 rooms are contemporary in design and feature LCD TVs, Broadband Internet access (for a fee), irons and ironing boards, safes, minibars, and dual-line speaker telephones. Most rooms look out at Doi Suthep Mountain. There is Wireless Internet access available in public areas (for a fee), while Club guests get complimentary WiFi in the Club Lounge. For meetings and conventions, the hotel offers 1,800sq m of function areas, and there is a wedding coordinator on hand for receptions and banquets. Lanna treatments are offered at The Spa, while the Lanna-style pool provides cool waters and panoramic views of Chiang Mai.
Located on the banks of the Mae Ping River is the 526-room Holiday Inn Chiangmai. Rooms are bright and contemporary with subtle Thai design flourishes. Amenities include LCD TV, high-speed Internet access, work desk, phone/fax and iron and board. Its 15 newly-refurbished function venues can hold everything from an intimate12-person workshop to a conference with up to 1,200 people.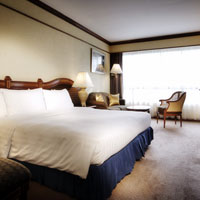 Riverside Holiday Inn Chiangmai/ photo: hotel
There is also a business centre offering secretarial and translation services. After a long day of networking or sightseeing, cool off in the outdoor swimming pool or soak up some rays on the sun deck. Alternatively, work up a sweat in the sauna, steam room or fitness centre. For Thai food, head to the River Terrace or for dim sum try the China palace.
If you'd prefer quieter accommodation across the river, RarinJinda is a friendly, atmospheric resort and wellness spa with 35 rooms and nice views from some rooms. It's quite well kitted out for a small hotel – with spa, gym, yoga studio, steam room etc – and is staggering distance from the strip of riverside bars and restaurants.
Over in the old city the residences get smaller and older, most nicely integrated into the smaller street system. Just outside, in an avenue off of Tha Phae Road, Manathai Village is an utterly charming small hotel set in a courtyard complex. Industrial concrete floors give rooms a hip twist, but they're mostly traditional luxe in dark woods and white. En suite bathrooms have deep trough-like baths, and the sound of running water fills the courtyard. Is your weak bladder playing up? A new higher-end Chiang Mai boutique hotel in this area is the De Naga Chiang Mai near the Tha Pae Gate. This 55-room lowrise Lanna-style resort offers a contemporary setting with some views of Doi Suthep temple.
Not far is the 23-room Mandala House, a more basic Thai-style hotel with sizeable bathrooms, two small Internet stations and a pleasant little coffee bar at reception. This is around the same three-star level as the Montrara Happy House, down a small street on the other side of Tha Phae Road, which brings the luxury Thai look down to a more affordable price range.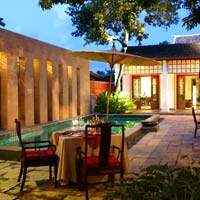 Boutique Bann Tazala/ photo: hotel
Beyond the walls one reigning Chiang Mai resort favourite is the old-world Rachamankha, always good for a bit of character and intimacy. Despite being only a few years old, the Chinese-Lanna-style building manages to feel like it's been putting down roots for at least a century. Rooms are authentically dark with old heavy furniture, teak double doors and a club-like accent that extends to the library and an elegant little restaurant (which does a nice afternoon tea). There's a pool among the bougainvillea, and cultural shows and live music are staged in the courtyard.
An attractive, larger option is the 40-room Tamarind Village, which also has a spa, a shady pool area and a terraced restaurant. The alarmingly named Hair World Hotel near the west gate hovers below the grade of luxury hotel, but offers a nicely furnished spot to lay your head… or hair. It has 22 rooms, free WiFi and a small spa, but you may find staff a little befuddled, if you're conversing in English.
If you're short on time and just need somewhere simple and businesslike, try the Amari Rincome (a Chiang Mai hotel stalwart just outside the old city, with two swimming pools, tennis, WiFi, and satellite TV), the neighbouring Chiang Mai Orchid Hotel (a functional, if bland, veteran that was once a Hyatt Regency and now amazingly offers "baby-sisters" on its facility list, online), Amora Tapae Hotel, or Novotel Chiang Mai. Both the Amari Rincome and Chiang Mai Orchid are well positioned on Huay Kaew Road that leads up to Doi Suthep. The Home Place Hotel and Sri Pat Guesthouse are clean, comfortable low-rangers with air-conditioning.
A short drive out of town, unabashed luxury awaits at the Mandarin Oriental Dhara Dhevi. This is another Lanna-style complex that appears ancient, but is really just a toddler. It is palatial, perhaps even gargantuan in scope. Old trees were brought in and transplanted, hundreds of traditional wood carvers employed, and more than one Burmese relic disassembled, transported and recreated on site.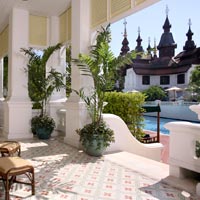 Mandarin Oriental colonial suite/ photo: hotel
Stay in one of sprawling luxury villas, or suites, all packed with antique-style furniture. Some gaze out onto manicured rice paddies, others have their own pools. The colonial suites are big, traditional-looking rooms in a two-storey building, which overlooks a large swimming pool. There is WiFi. Facilities here all work to make the Mandarin a "kingdom" in its own right, from an amphitheatre to shopping village, a cooking school and health club, all connected by quiet, overgrown paths. There's even a traditional rural village (another recreation) complete with a couple of old ladies on hand to teach local arts and crafts. Pick Mandarin Oriental Dhara Dhevi if you like your privacy – you could probably wander quite happily all day and see just a handful of people. This is a Chiang Mai luxury resort with a difference.
The Mandarin has a friendly relationship with the eight-room Chiang Mai boutique hotel Bann Tazala just across the road, and sends its overflow there during the busy season. This is another charming, narrow courtyard property with Chinese-Thai décor, antique details and an upscale homey appeal, with flat-screen TVs and individual touches. There's a small pool and, as in the Rachamankha and Mandarin, a library, which seems almost quaint in this age of Wireless, hands-free techno-gadgetry. There's still WiFi in the rooms though.
Up north heading into the Mae Rim Valley, the Four Seasons Chiang Mai is another sprawling escape. Snuggled into a small, forested hill, pavilion rooms and villas are connected by sloping garden paths. Golf buggies are ever on hand. Many of the public areas open out to trees and rooms get paddy-field views or foliage close-ups, as do the private salas (outdoor pavilions). Even the bathtubs get windows. It's a little far from town, but for families or couples wanting to explore the area from a comfy sanctuary, it works admirably, and there's a shuttle five times daily. There's plenty to do if you have transport, but the hotel also has a country-chic cooking school, a spa and a large pool.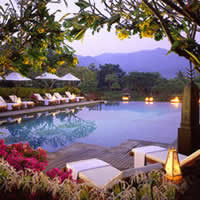 Four Seasons pool/ photo: hotel
The Sukantara Cascade Resort is out here too, also with woody overtones and very much jungle-enveloped, but smaller. Sukantara offers just six rooms and one suite pool villa. The lobby terrace and restaurant hug the river, where a small series of waterfalls enhance the atmosphere. Mosquitoes might wage war, but hey, it's the jungle. Sukantara does have more of a rustic feel to it, with comfy cottage rooms and bathroom showers open to the sky, but your reward is complete seclusion. Internet access in the lounge is free. Rooms have satellite TV and DVDs are available on request. There is also a small spa pavilion. The Sukantara is about a 35-minute drive from the airport but, if you get utterly lost, look for the petrol station on your right on the Mae Rim Samoeng Road for the turn-off.
Also in this general area is the Proud Phu Fah, a whimsical little hideaway. This Chiang Mai boutique resort is about 10 minutes on up the Mae Rim Samoeng Road past the pump. Guests are lured to a seemingly abandoned gate structure piping soft jazz, before being led through the trees by walkway to a hip lounge, restaurant and garden.
A handful of standalone houses are tucked into the undergrowth, each coloured with arty details and murals, some designed by the owner. Beds are simple four posters, and some cottages have small outside plunge pools or terraces and floor-to-ceiling windows. Dishes here are prepared with fresh local herbs from the highlands, and there's a small pool. I'm less sure about its "outdoor meeting facilities", but it seems thoroughly prepared for a secluded, romantic Chiang Mai getaway. "Proud Phu Fah" is also fun to say. Try it aloud.
As staff will happily tell you, Veranda Chiang Mai: The High Resort, is "way out in the hills beyond busy Chiang Mai". So this resort is a choice for those who appreciate seclusion.
The 80 rooms, suites and pavilions are set on the valley slope all with views over mountain streams and rice and tea terraces. While décor is distinctly smart and modern there are subtle touches of Thai to soften the straight lines and block colour. Deluxe rooms start at 43sq m with 15sq m of balcony. The open plan bathroom has a separate tub, rain shower, twin vanity and hair dryer. There's the ubiquitous iPod dock, 42″ LCD TV, DVD and WiFi. The Plunge Pool Pavilion offers a generous 88sq m with 45sq m of balcony and plunge pool space overlooking rice terraces. There's a Kid's Club, two yoga classes a day and a cultural pavilion to keep you busy, plus a full spa and all day dining with views over Veranda's private valley.
There are numerous other small Chiang Mai boutique resorts and alternative options. Baan Deva Montra is a 25-villa boutique hotel with gardens, Jacuzzis, pool villas, and cooking classes. Maninarakorn strives to be contemporary Thai, with meetings facilities, spa and shopping, while the 35-room two-star Suan Doi House (on Huay Kaew Road) offers simple, low-key hospitality in floral surrounds. The 30-room Puripunn goes one step further, describing itself as a "baby grand boutique resort". Puripunn offers Lanna Thai flourishes in its design, a pool, children's pool and spa. The small Tri Yaan Na Ros Colonial House is a cosy, if dark, hangout, with eight rooms and friendly staff, while the Yaang Come Village on Sridonchai Road has 42 air-conditioned rooms with satellite TV, WiFi, a library, and even small meetings facilities for up to 40 persons.
Also in the centre of town – and also just a skip away from the Night Bazaar – is the 24-storey, four-star Centara Duangtawan Hotel Chiang Mai. The 507 air-conditioned rooms and suites feature satellite TVs, Internet access (wired and wireless), mini-bar, safe, and separate bath and showers. You'll need to book a Business Plus room or higher to get bathrobe and slippers. Dynasty Club guests get access to a lounge that serves breakfast, all-day snacks and nightly cocktails. There are three restaurants, two lounges, and several meeting rooms for business types, including a ballroom catering for 800 people. The renovated SPA Cenvaree opened in September 2008, featuring an aerobics studio, pool, sauna, steam room, Jacuzzi, six therapy rooms and dozens of treatments on the menu.
Take your pick of these Chiang Mai boutique hotels, budget pads to crash in without fuss, and swish luxury spa resorts.
Chiang Mai Spas and Spa Resorts
Chiang Mai spas are never a problem. There's always one within hailing distance. All of the big resorts here have exclusive, luxury spa complexes, as do the dusitD2 chiang mai, RarinJinda, Sukantara and Tamarind Village. The streets are lined with small mom 'n' pop affairs that offer competitive foot massage (from just Bt150), and Thai or oil body massages. These won't come with cold towels and lemongrass tea, though you might get a fan trained on your mattress.
The Legend Spa (64 Huay Kaew Rd, tel: 406-520) is a high-end day spa in serene surrounds with a range of luxury treatments from green tea body masks to hydrotherapy. For a few spas in the mid-range arena try one of the Chiang Mai Oasis Spas (www.chiangmaioasisspa.com), rustic luxe in a garden setting, or Let's Relax (145/27 Chang Khlan Rd, www.bloomingspa.com), a light day spa near the night bazaar with packages from Bt600.
Multi-taskers can try the Artist Beauty & Day Spa, (www.artistspa.com) for spa and hairstyling, and Prasina (tel: [08] 6916-6585) for a massage with a manicure thrown in on Ninmanhemin Road. Alternatively try teeing off before your treatment, at the Chiang Mai Green Valley Country Club's Angsana Spa (www.greenviewresort.com). Escape (6/1 Kotchasarn Rd, tel: 208-225) does well-priced massages in an atmospheric old teak house. Most of these will start to turn customers away by 10pm, but a basic 24 hour pummel can be yours at Chiang Mai Traditional Massage (tel: 818-944) opposite the Empress Hotel. Most spas offer free transport from your hotel.
Send us your Feedback / Letter to the Editor
FAST FACTS
Visas can be issued on arrival for several nationalities from 15 days to three months. The exchange rate is around US$1 = Bt34 (Thai baht). Most of the rates below are rack (or published) rates but hotels may add a 10 percent service charge and 7 percent for VAT. Cheaper guesthouses may not always have hot water and air-conditioning. In terms of etiquette it's considered rude to beep in traffic (people get visibly angry) so use the horn prudently. You may be required to take off your shoes in people's homes, in temples, and massage parlous. It may seem natural to pat the heads of Thai children, especially in the hill villages, but this is also considered bad manners. Listed below are key hotels – cheap and cheerful to cosy and cosseted – included in this Chiang Mai resorts review, with contact information.
Chiang Mai Hotel Guide
Chiang Mai Resorts and Higher-End Hotels
Baan Deva Montra. Tel: [66-53] 432-972, (www.baandevamontra.com). Rates from Bt2,500 for a garden cottage.
Bann Tazala, Chiang Mai. Tel: [66-53] 850-111, fax: 851-211, (www.banntazala.co.th). From Bt6,500.
Centara Duangtawan Hotel Chiang Mai. Tel: [66-53] 905-000, fax: 275-429, (e-mail: cdc@chr.co.th or www.centarahotelsresorts.com). Internet rates from Bt1,020.
De Naga Chiang Mai. Tel: [66-53] 209-030, fax: 208-598, (e-mail: info@denagahotel.com or www.denagahotel.com).
dusitD2 chiang mai. Tel: [66-53] 999-999, fax: 999-900, (e-mail: d2cm@dusit.com or www.dusit.com/d2cm).
Four Seasons Resort Chiang Mai. Tel: [66-53] 298-181, fax: 298-189, (e-mail: res.chiangmai@fourseasons.com or www.fourseasons.com). Garden-view rooms from US$475.
Holiday Inn Chiangmai. Tel: [66-53] 275-300, fax: 275-299, e-mail: reservations.chiangmai@ihg.com or www.holidayinn.com/chiangmai). From Bt1,680.
Le Meridien Chiang Mai. Tel: [66-53] 253-681, fax: 253-667, (e-mail: reservations.chiangmai@lemeridien.com or www.lemeridien.com/chiangmai). Rooms from Bt4,800.
Manathai Village. Tel: [66-53] 281-6669, fax: 281-665, (e-mail: reservations@manathai.com or www.manathai.com). Deluxe rooms from Bt7,000, family rooms from Bt9,000.
Maninarakorn. Tel: [66-53] 999-555, fax: 999-500, (e-mail: rsvn@maininarakorn.com or www.maninarakorn.com). Superior from Bt3,000 with American breakfast, Suites from Bt6,000.
Mandarin Oriental Dhara Dhevi. Tel: [66-53] 888-888, fax: 888-999, (e-mail: mocnx-reservations@mohg.com or www.mandarinoriental.com/chiangmai). Standard rooms from US$385, deluxe villas US$510++.
Proud Phu Fah. Tel/fax: [66-53] 879-389, (e-mail: relax@proudphufah.com or www.proudphufah.com). Villas from Bt4,800.
Puripunn. Tel: [66-53] 302-898, fax: 303-121, (e-mail: info@puripunn.com or www.puripunn.com). Rates from Bt7,200 for a deluxe room.
Rachamankha. Tel: [66-53] 904-111, fax: 904-114, (e-mail: reservations@rachamankha.com or www.rachamankha.com). Singles stay from Bt5,500, Bt 5,900 for doubles, Suites Bt15,000++ and can take up to five people.
RarinJinda. Tel: [66-53] 247-000, (www.rarinjinda.com). Standard rooms start at Bt6,500.
RatiLanna Riverside Spa Resort. Tel: [66-53] 999-333, fax: 999-332, (www.ratilannachiangmai.com). Rooms from Bt8,000.
Shangri-La Hotel, Chiang Mai. Tel: [66-53] 253-888, (www.shangri-la.com). Value rate for Deluxe from US$270++.
Sukantara Cascade Resort. Tel: [66-1] 881-1444, fax: 881-7040, (e-mail: info@sukantara.com or www.sukantara.com). Deluxe Lanna cottages from Bt4,970.
Tamarind Village. Tel: (66-53) 418-8969, fax: 418-900, (www.tamarindvillage.com). Rates from Bt4,200.
The Chedi Chiang Mai. Tel: [66-53] 253-333, fax: 253-392, (e-mail: chedichiangmai@ghmhotels.com or www.ghmhotels.com). Deluxe rooms from Bt12,324, club suites from Bt18,486.
Tri Yaan Na Ros Colonial House. Tel: [66-53] 273-174, fax: 273-137, (e-mail: info@triyaannaros.com or www.triyaannaros.com). Rates from Bt3,675 with American breakfast.
Veranda Chiang Mai: The High Resort. Tel: [66-53] 365-007, fax: 365-362, (e-mail: rsvn-chiangmai@verandaresortandspa.com or www.verandaresortandspa.com/chiangmai/). From Bt5,000.
Yaang Come Village. Tel: [66-53] 237-222, fax: 237-230, (e-mail: info@yaangcome.com or www.yaangcome.com). Rates from Bt5,000 for a single superior room.
Chiang Mai Budget Hotels and Mid-Range Options
Amora Tapae Hotel Chiang Mai. Tel: [66-53] 251-531, fax: 251-721, (e-mail: info-cnx@amoragroup.com or www.amoragroup.com). Rates from Bt1,648 for a superior double.
Chiang Mai Orchid Hotel. Tel: [66-53] 222-099, fax: 221-625, (e-mail: info@chiangmaiorchid.com or www.chiangmaiorchid.com). Singles from Bt 1,350.
Hair World & First Spa Boutique Hotel. Tel: [66-53] 287-555, fax: 287-555, (e-mail: info@hairworldhotel.com or www.hairworldhotel.com). Rooms from Bt800.
Home Place Hotel. [66-53] 276-468, fax: 206-209. From Bt250-Bt350 for a double room with fan/air-conditioning.
Mandala House. Tel: [66-53] 272-488, fax: 274-696, (e-mail: info@mandalachiangmai.com or www.mandalachiangmai.com). Rooms from Bt850 including breakfast, Bt650 without.
Montrara Happy House. Tel: [66-53] 232-8002, fax: 252-619, (e-mail: sales@montrara.com or www.montrara.com). Rooms from Bt790.
Novotel Chiang Mai. Tel: [66-53] 225-500, fax: 225-505, (e-mail: reservation@novotel-chiangmai.com or www.accorhotels-asia.com). From Bt 1,008.
Sri Pat Guesthouse. Tel: [66-53] 218-716, fax: 218-718. Double, airconditioned rooms for Bt700.
Suan Doi House. Tel: [66-53] 221-869, 406-09, fax: 221-869. Rates from Bt950++ with American breakfast..
Tapae Place Hotel. Tel: [66-53] 270-159, fax: 271-982, (e-mail: tapaehotel@hotmail.com). Double, air-conditioned rooms from Bt590